Ann Neal writes: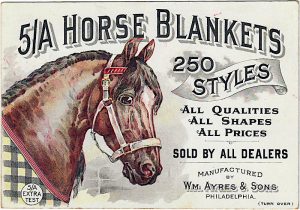 My Favorite Card:
Wm. Ayres & Sons, Phila.
"I find it very hard to pick a favorite card
as there are so many truly terrific examples…
however, sometimes one gets a chance to combine interests.
I have had a love affair with horses my entire life (much to my hubby's dismay) and as a result, I will seek out trade cards pertaining to equines.
These types of cards show the importance of the horse in transportation, commerce, farming, and even entertainment.
I not only like the 5/A Horse Blankets card because of the subject matter,
but also because it seems somewhat unusual.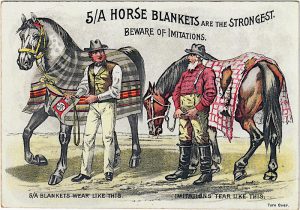 The reverse of this horse trade card
shows another colorful picture (With / Without style)
touting the quality of the product instead of just verbiage."
(The stylish 5/A blanket wears well. The ugly imitation wears out… into rags.)
— Collector Ann Neal, New York