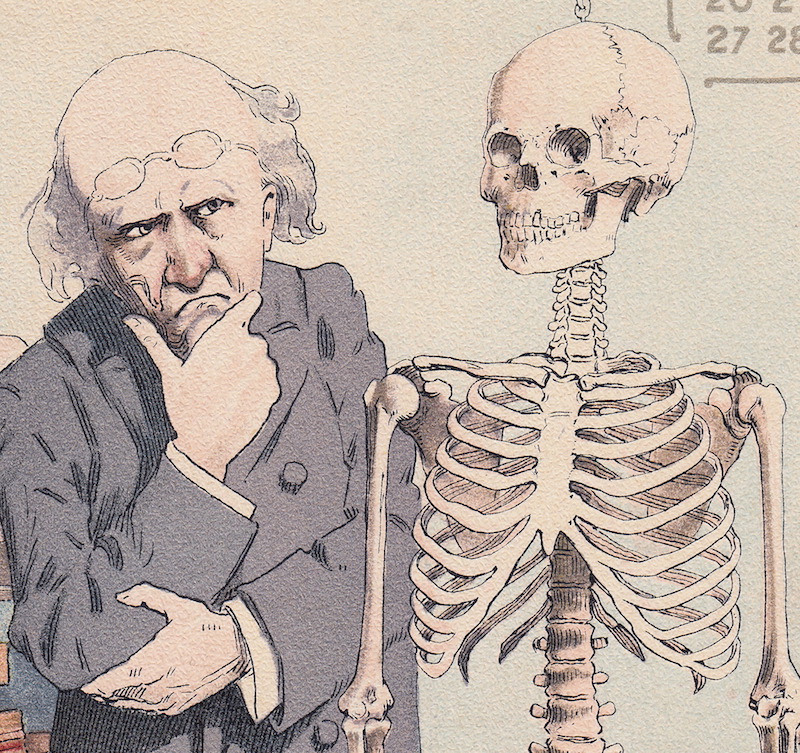 More about Patent Medicine Cards on History Channel:
Pawn Stars, Monday Night, April 23, 2018
People have been asking about these fabulous "Dark Humor" Antikamnia calendar cards.
Some are actually hilarious or even cute, while others are definitely creepy.
For more "background information," read the reverse note from the last card they issued: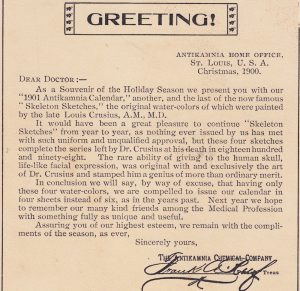 The Antikamnia Chemical Company hired local physician-artist Louis Crucius to do the art for the calendars. Crucius was also a pharmacist, and did the "Skeleton Sketches" drawings while working at a pharmacy. Five years worth of the calendars – 1897, 1898, 1899, 1900, and 1901 – were printed.
Antikamnia's analgesic compound, which was never patented, was marketed as a 'proudly ethical drug' and used to treat headaches, fever, stomach aches, nervousness, insomnia and 'the blues'.
They claimed their cure was a new synthetic coal-tar derivative, but it contained almost 50% acetanilid, which they mixed with codeine or quinine. Or even Heroin!
The toxic effects of acetanilid were exposed in a 1907 California State Journal of Medicine article, 'Poisoning by Antikamnia', and the company was prosecuted by the government in 1914 for violating the disclosure terms of the Food and Drug Act of 1906.
Skulls, Headache Pains,
Acetanilid… and Tylenol
Nobel Prize-winning biochemist Julius Axelrod discovered that the primary metabolic product of acetanlilide is a compound called paracetamol.
Of course, you may know paracetamol by its other chemical name, para-acetylaminophenol … or Tylenol.
To learn more via national television, watch the Season 15 Episode 25 History Channel show about Antikamnia skeleton calendar on Pawn Stars, April 23.
All the BEST to you, and as always, Good Collecting! — Dave Cheadle