Collectors:  Then and Now
These pages will also feature stories and "brief notes" about Victorian Trade Card collectors, old and new.
By the numbers, the hobby is experiencing more advertising trade card buyers today than at any time in its history.  These pages will explore the generations: "Original" Collectors from the 1800's, "Modern Pioneer" Collectors from the 1900's, and the "21st Century" Collectors building "new" collections today.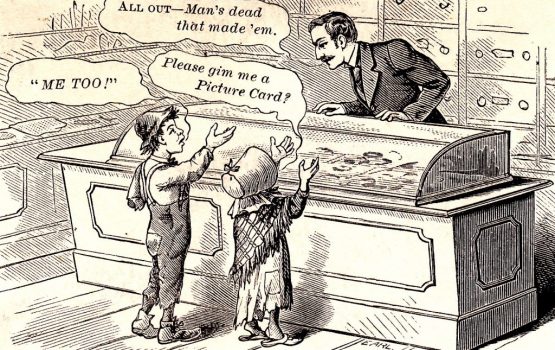 Schieber Collection
Ron's legendary cards on eBay
NOTE:  the following was adapted from this card's listing:
"The long-time exhaustive and legendary collection of the late Ron Schieber (aka Mad Money Ron or madmoneyetc) has begun to hit the market via eBay.  The collection includes a mix of rare, very rare, common and in some cases, only one known in the field.
Ron's Checklists of Trade Card subjects are still available.  Email for a list of subjects available and prices.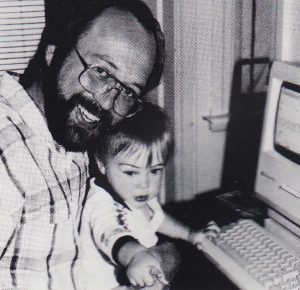 Journal Editor Dave Cheadle
TCCA Co-Founder at work
"Back in the Day" – – 1992
1992:  The child on Dave's lap is his son, Evan.  Dad is now gray, and Evan in now 6'4″ with a degree in Philosophy and is now studying Architecture.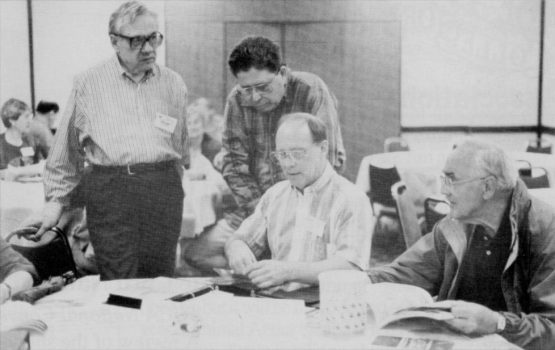 Collectors Gather
1995 National Convention Report
"TCCA members gather around census leader Bill Mobley to examine a variant during the Soapine census meeting.  Dozens of 'uncataloged' Soapine stock cards turned up at the meeting, leading to animated discussions about which cards should be included.
Left to right:  Jay Last, Jeff Hirsh, Bill Mobley, and Dave Dawson."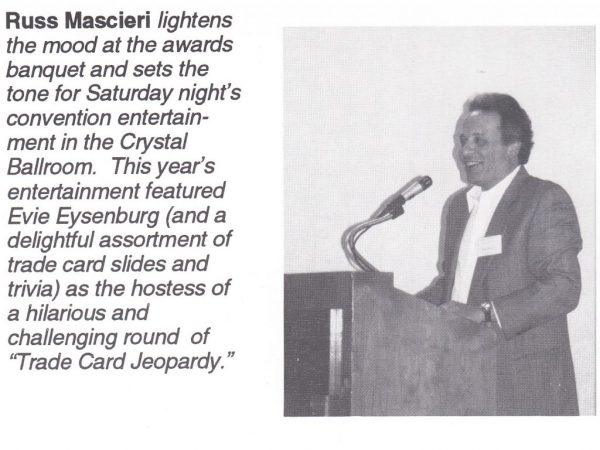 Russ Mascieri
Russ at the 1996 Convention
This photo and caption appeared in the Fall 1996 Advertising Trade Card Quarterly.  The story with this photo from our 2nd Annual TCCA Convention noted:
"The convention was, to quote Bill Lee, 'as good or better than last year's.'  Our attendance was up, with 134 registered for the full convention, plus many members who came for the show and activities which were open for the public.  Our banquet count was 111, up from 92 our first year…."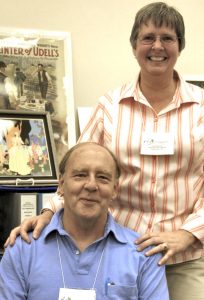 Bill & Carol Mobley
Denver PostCard Shows & Updates
The Denver Postcard & Paper Show is unique to Denver. Why? Because of the many friendly faces and the variety of merchandise at every show! It is one of very few shows in Colorado that offer a wide variety of antique and collectible postcards but also trade cards, stereoview cards, photographs and other paper ephemera. For beginning collectors there are even bargain boxes of cards starting at 25 cents each.  Read more….