Spoiler Alert: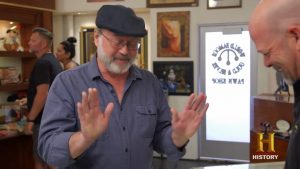 Pawn Stars – –
Season 15, Episode 25
1900 Calendar Cards Sell on History Channel for $950… Wholesale Price.
Pawn Stars – – Season 15, Episode 25
For those who caught Pawn Stars on April 23, 2018, a set of Antikamnia calendar cards was purchased by History Channel celebrity proprietor Rick Harrison for just shy of $1,ooo.
Rick commented something to the effect of:
"I've now got the material for the next Stephen King novel."
Rick indicated that he would frame the set, and then hang it on the Las Vegas Gold & Silver Pawn Shop wall. With a hefty mark-up on the price, of course.
Immediately after the show's airing, there was a "run" on Antikanmia calendar cards on ebay, with a half dozen or so individual card pages promptly selling for $160 to $275 each.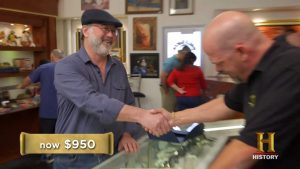 Apparently, the producers of the show figured those creepy Pawn Stars Antikamnia skeleton images would provide a brand of haunting humor most folks would find hard to resist.
Same as over a century ago.
Enough said. Good Collecting, as always! – Dave Cheadle