Robert A. Olson writes: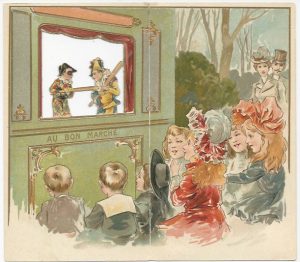 My Favorite Card: Die-Cut
Punch and Judy Puppets
"I focus on trade cards featuring Magic, Magicians, Ventriloquists,
and Punch & Judy puppets.
Here is my favorite trade card from my Punch and Judy collection.
It is a die-cut card of a French Punch and Judy show,
with the stage area cut out so the two puppets stand alone.
When the front of this folding card is viewed open,
you see the children watching the show;
the two puppets are about to battle each other with their Slapsticks.
But this card also provides a "back stage" view, as seen below.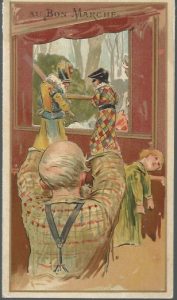 This second image shows the inside of the Punch and Judy booth,
with the puppeteer holding up two of his puppets, Punch in Yellow and Blue,
and Harlequin in Diamond Pattern Clothes and Mask.
Judy lies quietly on his right.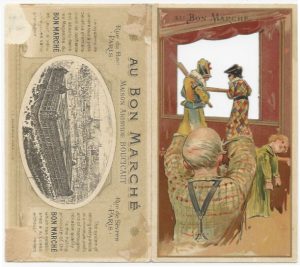 The ad on the back is from the Paris Department store, Au Bon Marche.
This card is circa 1890s.
Most cards show the Puppet booth from the front,
or Punch alone as a single character.
This Punch and Judy Card is unique
because it has both views of the Puppet Show:
behind the scenes inside the booth,
as well as with the audience watching from the front.
— Collector Robert A. Olson (RAOlson), Connecticut
NOTE: RAOlson, who besides, magic also performs Punch and Judy.